TONE COLOUR PALETTE ON WOODEN SURFACES
• To ensure a smooth surface and a long lifetime of the window every element of it is treated with a preservative against fungi and bacteria before varnishing it with water-based coating according to the tone chart or by the RAL card.
• To ensure the stability of the coating during use, we start with the wooden parts being treated with insecticide-fungicide agent for the prevention of attacks from fungi and bacteria.
This is followed by ground coating and application of the final layer.
• We offer a wide variety of colors, ie. systems of transparent coating with which the structure of the wood remains visible, or opaque coating according to the RAL card achieving complete pigmentation of the coating and overlay textures of wooden parts.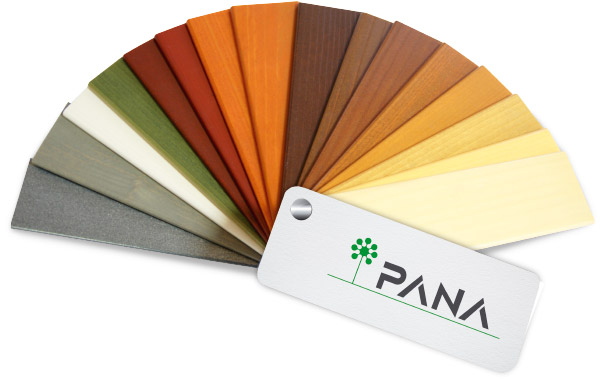 Tone card of Pana Stolarija – transparent coatings for wood
TONE COLOUR PALETTE FOR ALUMINUM FRAMES
It is possible to match the colours of the interior and the exterior of the windows by choosing the colour of the interior from the tone card from Pana Stolarija and matching it to the outer aluminum profiles with a colour from the RAL card.
• In standard option the surface of the aluminum cover is powder coated according to the RAL card.
The "Qualicoat" certificate is a warranty for constancy and durability of the surface treatment.
• Welded edges are a standard option and are contributing to a better visual impression of the window as well as better weather resistance
• Besides the powder coated surface there are several other surface treatments for aluminum covers available as wood imitation, bronze, Brunelleschi etc.
Tone colour palette card for aluminum frames